---
---
Registration for Next Year's Courses is about to begin!
On Monday February 23, counselors will meet with the freshman, sophomore and junior classes to talk about registration for next year's classes. Teachers have been making course level recommendations for each student and on Monday, the portal will open for students to begin the selection process. Students will complete their course selections online using Power School. The process is easy! Just follow the link below to a tutorial that explains the steps.
---
Hoops for Heart
 Three-on-three Basketball Tournament for a Great Cause!
Think you've got game? Try your best to knock 3-point specialist and History teacher extraordinaire, Mr. Lizzi, as he and his defending champions look to repeat on the hardwoods this year. All teams are co-ed, so get your best trio together and come ready to play! The tournament takes place on Wednesday, March 11 from 2:30-5 PM in our gymnasium. Click here for more information.
---
Dr. Martinez discusses NEASC accreditation with parents
On December 4th Dr. Martinez hosted his second "Parent Partnership" meeting at HVRHS. The purpose of the meeting was to discuss the New England Association of Schools and Colleges (NEASC) accreditation process, specifically looking at Core Values and Beliefs and the school's Learning Expectations for students. A brief presentation was made by Dr. Martinez, followed by engaging dialogue about the school's accreditation process, professional learning for teachers and how this impacts student learning, and Learning Expectations at HVRHS (Click here to view the PowerPoint). Looking forward, the next Parent Partnership meeting is scheduled for Wednesday March 18th at 6:30 at HVRHS. Please consider attending and joining in on the conversation about your school. Finally, to learn more about NEASC, click on the following link https://cpss.neasc.org// and select the "About Accreditation" tab.
---
HVRHS SPORTS SIGNUP
Students must be registered in order to participate in spring sports. Click here for information: Family ID parent letter
---
2015-2016 Calendar Approved by Regional Board
Now available online here.
---
A Time to Plan
New Course Offerings to Consider for 2015-2016
At its most recent meeting, the Region 1 Board of Education approved several new courses for the 2015-2016 school year. Environmental History, Visual Storytelling, and UConn ECE Introduction to American Politics are included in the Course of Studies Guide 15-16, now available on the Guidance Department Homepage. Environmental History pairs Agricultural Education content with History/Social Studies, and Visual Storytelling combines Art with English. The UConn ECE course joins the US History Course as a college course that is taught on the HVRHS campus, but which offers UConn college credit upon successful completion of the course. Check out these and many other exciting offerings as you prepare to select courses for next year!
---
On a Roll!
HVRHS Earns High Marks from College Board
Housatonic Valley was recently named to the fifth annual Advanced Placement Honor Roll. According to the College Board (the governing organization for AP), schools on the Honor Roll meet the following criteria:
Increased participation/access to AP by at least 4 percent in large districts, at least 6 percent in medium districts, and at least 11 percent in small districts;
Increased or maintained the percentage of exams taken by African American, Hispanic/Latino, and American Indian/Alaska Native students, and;
Improved performance levels when comparing the percentage of students in 2014 scoring a 3 or higher to those in 2012, unless the district has already attained a performance level at which more than 70 percent of its AP students are scoring a 3 or higher.
The Advanced Placement (AP) Tests are intensive exams that are given at the end of an AP course in high school. While they measure achievement in a specific subject, they also reflect the district's efforts to prepare students for college-level courses. Students at HVRHS have the option of taking AP courses in Calculus, Statistics, Biology, and English. Congratulations to students and teachers for all of your efforts that made this possible.
---
Counselor Connection Now Available
Fall 2014 Edition Online
Have questions about college applications, standardized testing, or what is happening with the freshman class these days? Take a look at The Counselor Connection, the Guidance Department newsletter, for the latest updates. Click here to read it.
---
Join Dr. Martinez in His "Parent Partnership"
Parent Alliance to Meet on December 4
In the spirit of cooperation, Principal Jose Martinez is proud to announce the formation of a Parent Partnership group. On October 14th at 6:30 p.m., Dr. Martinez hosted the first meeting (click here to view the PowerPoint), and he will hold the second of his two meetings on December 4th (6:30 p.m.). The purpose of these meetings is to exchange ideas about the good things going on at Housatonic and to discuss areas of concern. Dr. Martinez will begin the meeting with a brief presentation about current trends in education that affect Housatonic students. On October 14th, he discussed the Common Core State Standards and what they look like at Housatonic, as well as the New England Association of Schools and Colleges (NEASC) accreditation process and its impact on our school. The hope is to develop dialogue about these topics and many other areas of our school. All parents are welcome to attend and contribute or just listen to the discussion. Refreshments will be served.
---
Apply for 21st Century Fund Grant
Students, have you always wanted to explore new worlds, climb a mountain, learn Arabic, or make your own guitar, but lack the funds to make it happen?
Teachers, are you eager to bring new opportunities to your students, but there's no money in the budget to try something new?
Is there an extra curricular program you'd like to see happen at HVRHS that has never been in the school budget?
The 21st Century Fund For HVRHS, Inc. is here to help you. We have helped send kids across the planet to China, and across the country to leadership conferences. We have provided professional development for teachers to try new ideas, and bought cameras and bicycles and high tech equipment for special programs. We have funded teams and clubs and classes.
Go to www.21stcenturyfund.net and find out how to MAKE YOUR DREAM COME TRUE !!!!!!!!
---
Get 'Em While They're Hot!
Copies of the 75th Anniversary Yearbook and History Book Available
Looking for a great Christmas or birthday gift for your Mountaineer? Copies of the 75th Anniversary Yearbook are available, as well as the school history, written by Edward M. and Mary T. Kirby, Class of 1945 and Dr. Russell H. Cowrd, Jr., English Teacher 1980-2000. Yearbooks are $65.00, plus $7.00 for shipping, and the History book is $12.00. If you are interested in your own copy, please email Julie Lang @ jlang@hvrhs.org or call 860-824-5123 Ext 162 to reserve one. 
---
Let's Hear It for HVRHS Art Students!
Digital Media Offer New Opportunities for Grads & Current Students Alike
HVRHS students and alumni have experienced a string of successes in recent days that highlight the power of new media to create, share, and discuss art and design. Tyler Heacox, (Class of 2012) currently at Ringling College of Art and Design, won an animation contest conducted by the Baltimore Orioles. His animations, featured above, were chosen to appear on the O's spring training jumbotron display. Another recent alumnus, Lucia Love (formerly known as Lucia Martin, class of 2006), will be having an opening later this month in NYC at Chashama Gallery space in midtown Manhattan. Click here to view her work. Art appreciation is also alive and well in the work of current student Chris Moore, who had his art criticism blog quoted in a major UK art publication, History Today. Beautiful art and words, Mountaineers!
---
Student Accident Insurance
Insurance plans are available to all enrolled students for the 2014-2015 school year, including school time coverage and 24 hour coverage, with optional dental benefits also available. Please click on the brochure to learn more:
Student Accident Brochure
To obtain a copy of the instructions for filing a claim or the Accident Claim form please click below:
Claim Filing Instructions
Copies are also available at the high school main office.
---
Queue Up Your Summer Viewing with HVRHS Videos
Graduation, Civic Life Videos Now Available Online
The Class of 2014 has been preserved for posterity in several online videos that are now available to the public. The Commencement Exercises of June 19 are available on YouTube, and the Civic Life student documentaries, "Grey as Smoke," and "Breathing Room" are also available. Click on the links to access the videos, and for seniors who would like a DVD copy, just drop off DVDs (DVD+R or DVD-R) at the Main Office along with a name and a phone number, and we will call you when the copy is ready to be picked up.
---
Weekend Warriors
HVRHS Students Cover the State with Showcases of their Learning
It was a busy weekend for HVRHS students in our Environmental Science and Civic Rights classes, who roamed from Millerton, NY to Bridgeport, CT to talk about their learning this year. The weekend began with a trip to the Beardsley Zoo for Letitia Garcia-Tripp and members of the Environmental Science class, who attended the Aquarion Company's Environmental Champion Awards to be honored by Senator Richard Blumenthal and State Commissioner of the Department of Environmental Protection Rob Klee. The award recognized their work to study the impact of and propose a solution to the use of plastic water bottles at the school. Students Henry Yuliano, Christian Umana, and Olivia LaFontan presented the commissioner with a Mountaineers water bottle as an emblem of their work.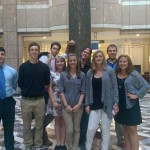 The recognition continued at the Millerton Moviehouse on Sunday with a screening of student documentaries from the Civic Rights class. English teacher Damon Osora and Social Studies teacher John Lizzi, along with a number of students, spoke with an audience at the Salisbury Forum about their project, which has been screened at the capitol this week, as well. Their projects covered a range of topics including drug addiction and the school's breathalyzer policy, and thanks to their work with professional documentary film maker Dominique Lasseur, their work was captured in the highest quality film. Check back here soon for links to the films.
---
Congratulations to Envirothon
Excellence: an Annual Tradition
The Envirothon teams of Housatonic Valley High School continued their excellence at the state level this past week at the State Envirothon competition and field day held this year at Tolland County Agricultural Center amongst forty-six other public, private and homeschool teams.     The Agriscience Team of Cristian Umana, Patrick Purdy, Emily Sullivan, Sam Weisman and Shannon Paton placed first in the forestry section of the competition and garnered 2nd place overall with a narrow margin of 3 points to the first place Greenstreet Homeschool Cooperative.    The Housatonic Valley High School team comprised of Sam Bradway, Jamie Long, Marina Matsudaira, Chris Moore and Larry Grannan placed fourth overall, just eight points off the first-place score.    Our wildcard team of Juliana Paton, Mari and Eve Cullerton, Kevin Massey, Cody Nettleton and Julian Weisman placed 22nd overall and first overall in a pack of 6 wildcard teams.    The North American theme of sustainable agriculture provided an intriguing platform throughout the year as students explored the three pillars of agriculture:  economic, environmental and social.    Thank you to the entire community for your support to our Envirothon teams.