Welcome Back!
School Begins for All Students on Tuesday, September 2
The Class of 2018 joins HVRHS on this, its 75th year in session. Freshmen Orientation will take place this Friday, August 29 from 8:30-1:30, and new students will find their way around the school and get to know their new classmates prior to the commencement of the school year for all students the following week. Enjoy the last gasp of summer this Labor Day Weekend, and we are looking forward to seeing everyone at 7:45 on Tuesday morning.
---
Parent / Teacher Conference Scheduling
click on the link below this type:

::: Click here to begin! :::
Conference dates are Wednesday, October 8 & Thursday, October 16.
Registration will open Friday, September 5 and close Sunday, October 5
---
Queue Up Your Summer Viewing with HVRHS Videos
Graduation, Civic Life Videos Now Available Online
The Class of 2014 has been preserved for posterity in several online videos that are now available to the public. The Commencement Exercises of June 19 are available on YouTube, and the Civic Life student documentaries, "Grey as Smoke," and "Breathing Room" are also available. Click on the links to access the videos, and for seniors who would like a DVD copy, just drop off DVDs (DVD+R or DVD-R) at the Main Office along with a name and a phone number, and we will call you when the copy is ready to be picked up.
---
Weekend Warriors
HVRHS Students Cover the State with Showcases of their Learning
It was a busy weekend for HVRHS students in our Environmental Science and Civic Rights classes, who roamed from Millerton, NY to Bridgeport, CT to talk about their learning this year. The weekend began with a trip to the Beardsley Zoo for Letitia Garcia-Tripp and members of the Environmental Science class, who attended the Aquarion Company's Environmental Champion Awards to be honored by Senator Richard Blumenthal and State Commissioner of the Department of Environmental Protection Rob Klee. The award recognized their work to study the impact of and propose a solution to the use of plastic water bottles at the school. Students Henry Yuliano, Christian Umana, and Olivia LaFontan presented the commissioner with a Mountaineers water bottle as an emblem of their work.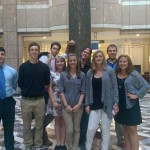 The recognition continued at the Millerton Moviehouse on Sunday with a screening of student documentaries from the Civic Rights class. English teacher Damon Osora and Social Studies teacher John Lizzi, along with a number of students, spoke with an audience at the Salisbury Forum about their project, which has been screened at the capitol this week, as well. Their projects covered a range of topics including drug addiction and the school's breathalyzer policy, and thanks to their work with professional documentary film maker Dominique Lasseur, their work was captured in the highest quality film. Check back here soon for links to the films.
---
Congratulations to Envirothon
Excellence: an Annual Tradition
The Envirothon teams of Housatonic Valley High School continued their excellence at the state level this past week at the State Envirothon competition and field day held this year at Tolland County Agricultural Center amongst forty-six other public, private and homeschool teams.     The Agriscience Team of Cristian Umana, Patrick Purdy, Emily Sullivan, Sam Weisman and Shannon Paton placed first in the forestry section of the competition and garnered 2nd place overall with a narrow margin of 3 points to the first place Greenstreet Homeschool Cooperative.    The Housatonic Valley High School team comprised of Sam Bradway, Jamie Long, Marina Matsudaira, Chris Moore and Larry Grannan placed fourth overall, just eight points off the first-place score.    Our wildcard team of Juliana Paton, Mari and Eve Cullerton, Kevin Massey, Cody Nettleton and Julian Weisman placed 22nd overall and first overall in a pack of 6 wildcard teams.    The North American theme of sustainable agriculture provided an intriguing platform throughout the year as students explored the three pillars of agriculture:  economic, environmental and social.    Thank you to the entire community for your support to our Envirothon teams.