Who'sCTEKS FIRST Robotics Team were runners up over the weekend
in BattleCry at Worcester Polytechnic Institute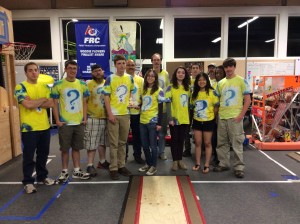 Congratulations Team 716!
---
Envirothon Places Third in the State, Agriscience Takes Second
The Connecticut State Envirothon Field Day was held yesterday at Connecticut College in New London with a pack of approximately 45 teams from around the state. Congratulations to the Housatonic Valley H.S Envirothon Team for their third place state finish with members Mari and Eve Cullerton, Abigail Adam, Noah Watson, Cody Nettleton and alternates Liam Sweeney, Connor Reid, Michah Danforth and Sara Vandeusen. Congratulations also to the Housatonic Agriscience Team for their second place state finish with members Sam Bradway, Emily Sullivan, Jamie Long, Marina Matsudaira and Kevin Massey.
We are very proud of all of these members and the work they put in throughout the year.
---
"The Boyfriend" Has Admirers
School Play Nominated for Top Awards
Housatonic Musical Theatre Society has been nominated in the following categories for the CT High School Musical Theatre Awards:
Outstanding Production of the Year

Outstanding Direction

Outstanding Choreography

Outstanding Costuming Achievement

 
The "Black Tie" gala will be on Monday, June 1 at the Palace Theatre in Waterbury, CT.  We hope you will be able to join us!
---
HVRHS German Students Excelling
Top Marks in National Exams
The National German Exam is administered each year to nearly 22,000 high school students in the second, third and fourth level of German. The Exam, now in its 55th year, provides individual diagnostic feedback, rewards students through an extensive prize program, and creates a sense of accomplishment. Exam results provide a means of comparing students in all regions of the country, as well as programmatic data provided to help inform curricular decisions. Exam results are among the criteria used in selecting the recipients of chapter awards and the national AATG/PAD Study Trip Awards, a four-week study trip program in Germany (taken from aatg.org).
The following students from Housatonic Valley Regional High School under the instruction of German Teacher Kimberly Durley achieved recognition as follows:
 Level 1:
Riley Simmons (grade 11) – ranked 1/79 students earning the Gold Award (Goldurkunde) scoring in the 99th percentile for both native and non native speakers
Elias Scimeca (grade 11) – ranked 16/70 students earning the Bronze Award (Bronzeurkunde) scoring in the 70th percentile for both native and non native speakers
 Level 2:
Jared Taylor (grade 9) – ranked 68/168 students earning the Achievement Award scoring in the 60th percentile.
 A hearty congratulations for all students who participated this year in the National Test. Students will be celebrated by the American Association for Teachers of German later in the spring with a local dinner as well as receiving their medals at our annual undergraduate awards ceremony.
---
RABIES CLINIC at HVRHS Vo-Ag Center
Saturday, May 30
1:00 pm – 3:00 pm
$20 per animal cash payments only. Cats must be crated and dogs must leashed.
---
HVRHS SPANISH STUDENTS RECEIVE TOP HONORS
Congratulations to nineteen World Language students from Housatonic Valley Regional High School who attained national recognition for excellent performance on the 2015 National Spanish Examinations (NSE). The Silver Medal winners are senior Juliana Bonett for Level 6, and sophomore Rosa Morales for Level 2. Silver medalists score at or above the 85th percentile nationally. The Bronze Medal winners are juniors Marina Matsudaira for Level 5 and Ashlee Baldwin for Level 4. Bronze medalists score at or above the 75th percentile nationally. The following fifteen students attained Honorable Mention for scoring at or above the 50th percentile nationally.
Level 2
Grade 9: Alison Holmes and Juan Sanchez
Grade 10: Jordan Santiago
Level 3
Grade 10: Paris Beddingfield, Mari Cullerton, Chloe Dakers, Scott Dignacco,
Morgan Jacquier, Katherine McGuire, Angela Tabor, Katherine Tortorella,
and Noah Watson
Grade 11: Gabriela Morales
Level 4
Grade 11: Joshua Johannesen and Jonathan Miller
These young people are students of Spanish teachers, Mrs. Rhonda Rinninsland, Mrs. Jennifer Sommerer, and Ms. Rosemarie Nanni, and are to be commended for their enthusiasm and dedication to language study. The mission of the NSE is to recognize student achievement and to promote language proficiency in the study of Spanish.
The National Spanish Examinations, sponsored by the American Association of Teachers of Spanish and Portuguese, have been administered since 1957 and are given voluntarily by over 3800 teachers throughout the United States to students in Grades 6-12. All students are evaluated in the areas of Vocabulary, Grammar, Reading, and Listening Comprehension.
"Attaining a medal or honorable mention for any student on the National Spanish Examinations is very prestigious," said Kevin Cessna-Buscemi, National Director of the Exams, "because the exams are the largest of their kind in the United States with over 157,000 students participating nationwide in 2015." Thanks to everyone who participated this year! ¡Muy bien hecho!
---
FFA Chicken BBQ
Sunday, June 14, 2015
at the HVRHS AG-ED Center
   4:30 pm – 7:30 pm (continuous serving)
          

Adults $12.00 / Child (under 10) $6.00

             Take-outs Available                                      

Dinner includes: BBQ Chicken, Baked Potato, salad, roll, beverage & ice cream
Proceeds benefit FFA Alumni Scholarship Fund
---
On the Ground in China
HVRHS China Trip: Xi'an
Report by HVRHS student Maddie Longwell, '15: Our day started at the pearl factory where we were given a brief introduction into how pearls are made and –more importantly—how to tell which are fake. After the pearl market, we headed further out of the city to the Summer Palace.
Home to the Emperor and Empress in the warmer months, the Summer Palace stretches along the banks of a man-made lake. After walking through the palace, we took a dragon boat across the lake to catch a better view of the architecture.
The most interesting part of our day started in the afternoon. First, we stopped at the Beijing Silk Market. Though our tour guide encouraged us to be "good bargainers" we all found it challenging. After the relatively unsuccessful shopping trip, a few of us took a break at a nearby restaurant.
Though the restaurant wasn't on our itinerary, we learned a great deal from it, and made a new friend! The owner of the restaurant, a Taiwanese man who had lived in the U.S. for some time, told us all about adjusting to Beijing culture.
Unfortunately, our new knowledge couldn't be put to much use as we were starting on the next part of our journey to the ancient city of Xi'an later that night. In the late evening, our tour guide dropped us off at the train station. Feeling isolated in our new environment, our group found safety and a slice of home in a Starbucks.
Two hours later, we boarded our train to Xi'an. The train was crowded and unlike anything any of us had seen before. As we departed from Beijing, we tried our best to get comfortable in the cramped compartments and eagerly awaited our arrival to Xi'an
---
Local Students Ranked Nationally in Le Grand Concours
Cameryn Caruso, Sara VanDeusen, Madeleine Longwell, and Katherine Starr of Housatonic Valley Regional High School, Falls Village, Connecticut have ranked nationally in the 80th annual event. Le Grand Concours is a national competition sponsored by the American Association of Teachers of French. Students were evaluated for their written, oral and listening comprehension skills in French. 91,000 students in all 50 states competed in the 2015 event. Cameryn Caruso (10th grade) ranked 11th in the state of Connecticut and 11th nationally for French Level 1. Sara VanDeusen (10th grade) ranked 12th in the state and 13th nationally for French Level 2. Madeleine Longwell (12th grade) and Katherine Starr (10th grade) ranked 14th in the state and 18th nationally for French Level 3. All are students of Marjorie Becker. They will be honored at a special awards ceremony to be held in May at Amity High School in Woodbridge, CT where they will receive the Bronze medal.
The following HVRHS students received the Certificat d'Honneur for having scored in the top 50th percentile nationally:
Level 1: Maggie Sullivan
Level 2: Madison Caruso, Sophie Lake-Ginouves, Declan Saint-Onge, Julian Weisman
Level 3: Sierra Grossman, Kianjai Huggan, Hannah McGuire
Level 4: Marc Hernandez, Fiona Ocain
AATF President Mary Helen Kashuba indicated: French students who rank nationally in Le Grand Concours prove that hard work in the classroom brings success and recognition. These outstanding students reflect well on the French programs in their schools and French teachers under whose guidance they have studied. They constitute an asset to their communities and their present and future schools because they have multilingual capabilities, a greater understanding of world cultures and a high work ethic. They are world citizens and future leaders; it is gratifying to know that such excellent students value their French studies and strive to continually learn and improve.
---
SURVIVE THE DRIVE ANNOUNCES "BEHIND THE WHEEL" Defensive Driver Training
Join Survive the Drive for a Special Defensive Driver Training Clinic on June 25th, 2015 at Lime Rock Park in Lakeville, CT
For parents, this might be one of the most important and memorable experiences you ever share with your child. Learning defensive driving techniques, together, that may one day save your lives.
Survive the Drive is the longest running program of its kind, presenting their teen driver safety program to students for nearly two decades. President and Executive Director, Bob Green has visited over 600 venues and has made over 1,500 presentations to over 130,000 individuals.
Survive the Drive – "Behind the Wheel" is offering hands-on defensive driver instruction in addition to their group presentations on distracted driving. This defensive driving portion of their program offers teen-friendly, comprehensive and cost effective defensive driver education.
Survive the Drive has created this safety program based on information and experience gathered by their professional staff and Board of Directors each offering decades of service, education and experience in driver training, transportation safety and auto racing instruction.
Survive the Drive is currently registering participants for their June 25, 2015 "Behind the Wheel" Defensive Driver Training course at Lime Rock Park in Lakeville, CT. Survive the Drive allows students to participate in the school in their personal vehicles to experience the feel of the car they will be using in their daily driving activities.
The program's early registration and group discount cost is $250 per four hour session.  Ask about scholarship eligibility for your teen.  Due to the extreme importance of defensive driver training, Survive the Drive is confident the seats will sell out and will introduce new future dates. Participating students must possess and present a valid DMV permit or drivers license. For more information and to register call or text 860-806-3042 or email loriz@survivethedrive.org.
"Every driver should have affordable access to learn car control techniques and accident avoidance maneuvers that may someday save their life", Lori Demaraies, Marketing Director of Survive the Drive.
About Survivethedrive®: Survive the Drive is an independent, not for profit, educational resource that provides risk awareness presentations and hands-on defensive driver training to individuals, schools and community groups. For more information, contact Lori at 860-806-3042, loriz@survivethedrive.org, and visit their website at www.survivethedrive.org.
About Lime Rock Park: Lime Rock Park, listed on the National Register of Historic Places, has been "New England's Road Racing Home" since its opening in 1957. It is a 7-turn, 1.5-mile road racing circuit in Connecticut's celebrated Northwest Corner – approximately halfway between New York City and Boston – and holds FIA-listed national and international road racing events, driving schools, track days, corporate events, and public and private functions. The president and owner of Lime Rock Park is Skip Barber. Learn more at www.limerock.com
---
Have you reserved your copy of the 2015 yearbook yet?
The price is $65.
Online orders can be placed at www.yearbookordercenter.com. Our order number is 14109.
Or you can bring in a check made payable to HVRHS and give to Ms. McLeod.
---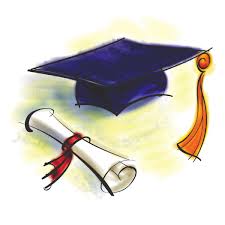 The Class of 2015 Graduation Ceremony
Wednesday, June 24
6:30 pm at HVRHS
The Senior Awards Ceremony 
Tuesday, June 23
3:00 pm
---
CANAAN SUMMER JOBS PROGRAM – 2015
Open to students of Canann & Falls Village (ages 14 & 15) the Summer Jobs Program is a service provided by the Canaan Community Trust with the support of the Town of Falls Village and Lee Kellogg School. See the high school main office for applications or click here: 2015 application package 
---
On a Roll!
HVRHS Earns High Marks from College Board
Housatonic Valley was recently named to the fifth annual Advanced Placement Honor Roll. According to the College Board (the governing organization for AP), schools on the Honor Roll meet the following criteria:
Increased participation/access to AP by at least 4 percent in large districts, at least 6 percent in medium districts, and at least 11 percent in small districts;
Increased or maintained the percentage of exams taken by African American, Hispanic/Latino, and American Indian/Alaska Native students, and;
Improved performance levels when comparing the percentage of students in 2014 scoring a 3 or higher to those in 2012, unless the district has already attained a performance level at which more than 70 percent of its AP students are scoring a 3 or higher.
The Advanced Placement (AP) Tests are intensive exams that are given at the end of an AP course in high school. While they measure achievement in a specific subject, they also reflect the district's efforts to prepare students for college-level courses. Students at HVRHS have the option of taking AP courses in Calculus, Statistics, Biology, and English. Congratulations to students and teachers for all of your efforts that made this possible.
---
Apply for 21st Century Fund Grant
Students, have you always wanted to explore new worlds, climb a mountain, learn Arabic, or make your own guitar, but lack the funds to make it happen?
Teachers, are you eager to bring new opportunities to your students, but there's no money in the budget to try something new?
Is there an extra curricular program you'd like to see happen at HVRHS that has never been in the school budget?
The 21st Century Fund For HVRHS, Inc. is here to help you. We have helped send kids across the planet to China, and across the country to leadership conferences. We have provided professional development for teachers to try new ideas, and bought cameras and bicycles and high tech equipment for special programs. We have funded teams and clubs and classes.
Go to www.21stcenturyfund.net and find out how to MAKE YOUR DREAM COME TRUE !!!!!!!!
---
Get 'Em While They're Hot!
Copies of the 75th Anniversary Yearbook and History Book Available
Looking for a great Christmas or birthday gift for your Mountaineer? Copies of the 75th Anniversary Yearbook are available, as well as the school history, written by Edward M. and Mary T. Kirby, Class of 1945 and Dr. Russell H. Cowrd, Jr., English Teacher 1980-2000. Yearbooks are $65.00, plus $7.00 for shipping, and the History book is $12.00. If you are interested in your own copy, please email Julie Lang @ jlang@hvrhs.org or call 860-824-5123 Ext 162 to reserve one. 
---
Let's Hear It for HVRHS Art Students!
Digital Media Offer New Opportunities for Grads & Current Students Alike
HVRHS students and alumni have experienced a string of successes in recent days that highlight the power of new media to create, share, and discuss art and design. Tyler Heacox, (Class of 2012) currently at Ringling College of Art and Design, won an animation contest conducted by the Baltimore Orioles. His animations, featured above, were chosen to appear on the O's spring training jumbotron display. Another recent alumnus, Lucia Love (formerly known as Lucia Martin, class of 2006), will be having an opening later this month in NYC at Chashama Gallery space in midtown Manhattan. Click here to view her work. Art appreciation is also alive and well in the work of current student Chris Moore, who had his art criticism blog quoted in a major UK art publication, History Today. Beautiful art and words, Mountaineers!
---
Student Accident Insurance
Insurance plans are available to all enrolled students for the 2014-2015 school year, including school time coverage and 24 hour coverage, with optional dental benefits also available. Please click on the brochure to learn more:
Student Accident Brochure
To obtain a copy of the instructions for filing a claim or the Accident Claim form please click below:
Claim Filing Instructions
Copies are also available at the high school main office.
---
Queue Up Your Summer Viewing with HVRHS Videos
Graduation, Civic Life Videos Now Available Online
The Class of 2014 has been preserved for posterity in several online videos that are now available to the public. The Commencement Exercises of June 19 are available on YouTube, and the Civic Life student documentaries, "Grey as Smoke," and "Breathing Room" are also available. Click on the links to access the videos, and for seniors who would like a DVD copy, just drop off DVDs (DVD+R or DVD-R) at the Main Office along with a name and a phone number, and we will call you when the copy is ready to be picked up.
---
Weekend Warriors
HVRHS Students Cover the State with Showcases of their Learning
It was a busy weekend for HVRHS students in our Environmental Science and Civic Rights classes, who roamed from Millerton, NY to Bridgeport, CT to talk about their learning this year. The weekend began with a trip to the Beardsley Zoo for Letitia Garcia-Tripp and members of the Environmental Science class, who attended the Aquarion Company's Environmental Champion Awards to be honored by Senator Richard Blumenthal and State Commissioner of the Department of Environmental Protection Rob Klee. The award recognized their work to study the impact of and propose a solution to the use of plastic water bottles at the school. Students Henry Yuliano, Christian Umana, and Olivia LaFontan presented the commissioner with a Mountaineers water bottle as an emblem of their work.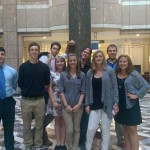 The recognition continued at the Millerton Moviehouse on Sunday with a screening of student documentaries from the Civic Rights class. English teacher Damon Osora and Social Studies teacher John Lizzi, along with a number of students, spoke with an audience at the Salisbury Forum about their project, which has been screened at the capitol this week, as well. Their projects covered a range of topics including drug addiction and the school's breathalyzer policy, and thanks to their work with professional documentary film maker Dominique Lasseur, their work was captured in the highest quality film. Check back here soon for links to the films.
---
Congratulations to Envirothon
Excellence: an Annual Tradition
The Envirothon teams of Housatonic Valley High School continued their excellence at the state level this past week at the State Envirothon competition and field day held this year at Tolland County Agricultural Center amongst forty-six other public, private and homeschool teams.     The Agriscience Team of Cristian Umana, Patrick Purdy, Emily Sullivan, Sam Weisman and Shannon Paton placed first in the forestry section of the competition and garnered 2nd place overall with a narrow margin of 3 points to the first place Greenstreet Homeschool Cooperative.    The Housatonic Valley High School team comprised of Sam Bradway, Jamie Long, Marina Matsudaira, Chris Moore and Larry Grannan placed fourth overall, just eight points off the first-place score.    Our wildcard team of Juliana Paton, Mari and Eve Cullerton, Kevin Massey, Cody Nettleton and Julian Weisman placed 22nd overall and first overall in a pack of 6 wildcard teams.    The North American theme of sustainable agriculture provided an intriguing platform throughout the year as students explored the three pillars of agriculture:  economic, environmental and social.    Thank you to the entire community for your support to our Envirothon teams.