Class of 2018 – Senior Portraits Summer Session
Location will be at Lee H. Kellogg School located at 47 Main Street in Falls Village. If you missed July 17 & July 18, there will be another chance on Thursday, August 10 & Friday, August 11. You should receive a postcard from Lifetouch with your appointment date, time & unique Confirmation Code to confirm or change your appointment date and time at www.photoappointment.com. If you need additional assistance, please call 800-426-9533, and follow the prompts to reschedule an appointment.
Please "confirm" your appointment date & time at www.photoappointment.com which is available to you 24 hours a day / 7 days a week for their convenience. Having knowledge of this information allows Lifetouch to ensure that all students have the appropriate time allotted for their portrait session. If you have additional questions please call the HVRHS Main Office at 860-824-5123.
---
Dive into Summer Reading!
Already thinking about next year? Start your learning with summer reading! Click on the link below to access the summer reading for the courses in which you are enrolled:
Global History 1H
World History 10H
ECE United States History
History 12H
English9H-SummerReading2017
English9-SummerReading2017
English10H-SummerReading2017
English10-SummerReading2017
English11-SummerReading2017
English11H-Summer Reading 2017
AP English Literature-SummerReading 2017
CivicLife-SummerReading2017
CreativeWriting-SummerReading2017
FilmStudies-SummerReading2017
LiteraryGenres-SummerReading2017
---
June Newsletter Now Available
Click here to read the June 2017 HVRHS Newsletter
---
Graduation Commencement Portraits
Students and family members may pre-register by signing up with their name and email anytime at www.events.lifetouch.com prior to graduation; doing so will enable a notification to be sent when their portraits are available for ordering. Everyone will be photographed. Photos will be online at event.lifetouch.com 10 days after the ceremony. Complimentary proofs can be mailed to graduates with no obligation to purchase.
---
ORDER 2017 Yearbook
https://www.yearbookordercenter.com Click here and enter our school number #14109.
Yearbook will arrive late August / Early September.
---
Junior Achievement Career Success Program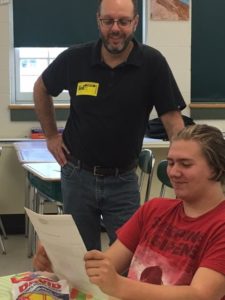 Our school community gratefully recognizes Junior Achievement Volunteer Mike Vidal who is a Plastics Molding Engineer at BD Medical in Canaan, CT. Mike led a group of students through the Junior Achievement Career Success program which equips students with tools and skills required by employers to find and keep a job in high-growth career industries.
For the last two months, Mike has facilitated a series of sessions informing students of the necessary skills needed in the 21st Century workplace. The students greatly appreciated Mike's expertise. In their follow up assessments, students had the following insightful comments concerning the practical applications they learned from Mike:
"You can't walk out on a customer regardless of how you feel."
"Communication is key."
"(I learned) about different career clusters and the skills required."
"It's important to have a good decent perfect cover letter, resume and digital profile – ones that are not too crazy, funky, funny looking or embarrassing."
"Teamwork is important when you want to add your own idea."
HVRHS appreciates BD Medical for supporting Mike's volunteerism in the classroom. The collaboration between BD Medical, HVRHS and Junior Achievement helps our students make real-world connections between work and the needed 21st Century skills of critical thinking, collaboration, communication and creativity.
---
Message to Parents and Community from Dr. Martinez
Please click here to read this important message concerning the 17-18 bell schedule.
---
DRIVER EDUCATION
All-Star Driver is now The Next Street. Classes are conveniently held right after school at HVRHS.
Check out www.thenextstreet.com/housatonic to see.
Due to scheduled renovations for HVRHS; driver educations classes will not be held at the high school this summer. Please contact The Next Street for information on classes this summer.
---
Envirothon Teams place 3rd and 1st
Congratulations to the Housatonic Valley High School Envirothon teams for their 3rd and 1st place finishes at the State Competition on Thursday, May 19th. The Housatonic Team Two comprised of Noah Watson, Liam Sweeney, Ella Matsudaira, Lili Culbreth and Cameron Majette placed third with high scores in the Current Issue/Oral Presentation (tie) and Soils/Land-Use. The Housatonic Team One and first place team members included: Eve Cullerton, Mari Cullerton, Lauren Murtagh, Dean Saccardi and Victor Flores. Team One produced high scores in Wildlife, Aquatics, and a tie for the Current Issue/Oral Presentation. Kristen Galgano and Olivia Woods participated with other schools as wildcard participants. The first place team will represent Connecticut at the North American Envirothon to be held in Maryland this coming July.
---
The USDA requires every sponsor (public, charter, private, RCCI) participating in the National School Lunch Program to provide information to their community on the availability of Summer Meals, even if they are not a sponsor or site for Summer Meals.
Childhood food insecurity remains at unacceptable levels across the country and children are most acutely at risk in the summer when they do not have access to school meals. There were 708 sites in the summer of 2016 across Connecticut offering free meals to children 18 years and younger, yet only 1 out of 4 of CT's children who access school meals are accessing Free Summer Meals.
PLEASE NOTE: Even if you do not have a Summer Meals program in your town, children ages 18 and younger may visit Open Summer Meals sites anywhere in the state to receive a meal. There is no application, identification or commitment to participate in Summer Meals. Take the time to share this valuable information with the families in your community.
If you have any questions about Summer Meals, please contact Caroline Cooke at the CSDE at caroline.cooke@ct.gov or 860-807-2144.
SUMMER MEALS INFO click below:
www.ctsummerfood.org/location-finder
---
National Language Exams:
HVRHS Students Attain High Marks!
Congratulations to students from Housatonic Valley Regional High School who attained national recognition for excellent performance on the National Language Exams. Students were evaluated for their written, oral and listening comprehension skills in French and Spanish.
The Silver Medal winners in French are sophomore Manuela Bonett and freshman Shirleen Santiago for level 2, and senior Cameryn Caruso for level 3. Silver medalists score at or above the 85th percentile nationally.
The Bronze Medal winner is sophomore Madison Rinehart for level 1. Bronze medalists score at or above the 75th percentile nationally. All are students of Marjorie Becker. They will be honored at a special awards ceremony to be held May 15th at the Hopkins School in New Haven, CT.
The following HVRHS students received Honorable Mention for having scored at or above the 50th percentile nationally.
Level 2: Emily Abbott, Julia Hernandez, Abby VanDeusen
Level 3: Sarah Mauri, Maggie Sullivan
Level 4: Sara VanDeusen
Level 5: Katherine Starr
In Spanish, the Gold Medal winner is sophomore Victor Flores for Level 3. Victor scored at the 99th percentile nationally. The Silver Medal winner is sophomore Marijke Stiffler for Level 3. Marijke scored at the 91st percentile nationally. The Bronze Medal winners are sophomores Lindsey Clark and Jeffrey Palmer for Level 2. Lindsey scored at the 76th percentile and Jeffrey scored at the 81st percentile nationally.
The following eleven students attained Honorable Mention for scoring at or above the 50th percentile nationally.
Level 2 Grade 9: Valerie Lenis, Marin Montoya and Tifanny Munoz Arango.
Level 3 Grade 10: Matthew Lopes, Donovan McCray, Sebastian Munoz Arango, and Maebel Spencer.
Grade 11: Nicholas Suby-Brown
Level 5 Grade 12: Grace Beddingfield, Paris Beddingfield, and Kyra Cullerton.
These young people are to be commended for their enthusiasm and dedication to language study. Their teachers, Mrs. Tristana Nuñez and Ms. Rosemarie Nanni are very proud of them.
---
Study Abroad…in High School!
This program is targeted to anyone who is interested in an international exchange experience, whether it is to study abroad or to host a student in your home while they attend high school. Housatonic has been hosting students from around the world since 1951. These students have come from 69 different countries."
AFS Flyer, 2017
AFS International Website
---
Schedule Resources Available
Have questions about the proposed 17-18 Schedule? We have a number of documents that can help. Click here to access a Google Drive folder that contains a number of different files about the schedule. The documents include the proposed schedule, sample schedules for each grade, and information about block scheduling in general. Please let us know of any resources that you would like to see added to the collection!
---
Communication Points about a 4×4 Semester Schedule
"The high school administration, along with Assistant Superintendent, Pamela Vogel, has been, for the past year and a half, discussing scheduling changes for the high school students with the Board of Education. Ultimately, the goal is to improve student achievement and provide optimal and personalized learning opportunities for all students. While we are still working out the details with our scheduling consultant, Dr. Robert Lynn Canady, we will be implementing a new schedule for the 2017-2018 school year. Students will sign up in the spring as they always have in the past. Please read the attached communication from Pamela Vogel, next year's Superintendent, regarding this change for further detail." Read more.
What do we want for students at Housatonic
---