HOOPS FOR HEART
Hoops for Heart Poster
HoopsforHeartPermissionSlip
---
February Newsletter Now Available Online
In case you missed it in your inbox, this month's newsletter is available online here. Please let Cindy Fuller (x 160) know if you would like to be added to our direct mailing list.
---
2016 YEARBOOKS
Have you reserved your copy of the 2016 yearbook yet? Online orders can be placed at www.yearbookordercenter.com. Our order number is 14109. Or you can bring in a check made payable to HVRHS and give to Ms. McLeod.
---
---
SAT for All Juniors This March
"Governor Dannel P. Malloy sought and won approval this year for a waiver from the U.S. Department of Education to use the SAT as the high school accountability measure for Connecticut in lieu of the 11th grade Smarter Balanced assessment. The switch to the SAT also satisfies the requirements of Connecticut Public Act No. 15-238, which states that effective in the 2015-16 school year students enrolled in Grade 11 should be administered a nationally recognized college readiness assessment that is approved by the State Board of Education and that measures essential and grade-appropriate skills in reading, writing and mathematics" (CT Administration FAQ). At Housatonic, our juniors are preparing for the new test in all courses, along with the latest study guides, now provided through Khan Academy. The test will be administered to eleventh graders across the state on Wednesday, March 2, 2016, and we will share more information about both the test itself and our local administration of it as details become available. The Connecticut State Department of Education has release this brochure to answer some of the major questions that students and parents may have about the new testing landscape. We encourage all families to review the brochure and contact us with any further questions you would like answered.
---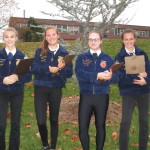 Housatonic Valley FFA Team Heading to Nationals
Our Nursery/Landscape Career Development Event team recently took first place at the University of Connecticut and is now directing their attention to the national event in Indianapolis for October 2016 as Connecticut's team. The winning team members of Cameron Foley, Morgan Jacquier, Lauren Murtagh, and Jessica Serna all posted scores in their state event in the top ten, with Lauren as the highest individual in the state. As preparations for the national event begin, these students will focus on a broad scope of new skills and will be challenged with written knowledge exams, team oral presentations, landscape mathematics; identification of physiological disorders, insects & diseases and plants; surveying and engineering problem sets; verbal and customer assistance practicums; along with up to 16 practical and written skill sets required of green industry professionals. This three day event is sponsored by Stihl and Kubota Corporation as well as Arysta Life Sciences and will be part of an overall week of many new experiences with over 60,000 FFA members that have earned their way to the convention over the coming year. Many more Career Development Event opportunities exist in a variety of areas including public speaking, communication, finance and applied-science based fields. Come join a team!
---
Eat Breakfast at School!
Mornings can be really crazy…the alarm doesn't go off…the kids don't want to get up…there's no time to eat breakfast before the bus comes…or they're just not in the mood to eat. Breakfast "on the go" will be served at Housatonic starting January 4, 2016. Our school breakfast will give your child a healthy start to the day. A nutritious breakfast helps students be more alert so they can learn more in class. Breakfast has vitamins and nutrients for a strong and healthy body. Breakfast at school is affordable. If you qualify for free or reduced price meals, you also qualify for the breakfast program, with no additional paperwork. You can't find a healthy breakfast at such a low cost anywhere else. A full-pay breakfast is $2.00, a reduced price breakfast is $.30, and if you qualify for free meals – your breakfast is free. Help your child start the day right with a healthy and nutritious school breakfast! Any questions please feel free to contact the Main Office at 860-824-5123.
---
Now Read This:
HVRHS Art Teacher Featured in SchoolArts Magazine
This month's edition of SchoolArts Magazine features an article by HVRHS Art teacher, Linda McMillan, who describes a full-size sculpture project she does in her class. The article, "Figures in Form," explains the project, which is a collaborative effort by her students, inspired by contemporary artist Mark Jenkins. Congratulations, Linda!
---
Northern Regional Music Festival Honors HVRHS Students
Congratulations to Ashley Coon, Eliana Calhoun, and Eleanor Clulow for auditioning and making the Northern Regional Music Festival Chorus for 2016. Ashley, Eliana and Eleanor will represent HVRHS in a 300 person chorus comprised of some of the best singers in the state.
---
Congrats to the winners of the 6th Annual Dig Pink Volleyball Tournament, Colby Hickey, Seth Sherwood, James Bentley and Alyssa Labbadia. Runners up were Michael O'Connor, Justin Gomez, Brooke Olownia and Marge Riccardelli. Participants played in over 30 games and raised over $1500 to be split between the Girl's Volleyball team and the Side Out Foundation which funds breast cancer research. Thanks and great work to all participants!
---
Vermilyea Honored with CultureMax Award
On November 17, the Northwest Corner Arts Council recognized HVRHS history teacher Peter Vermilyea with its CultureMax for his contributions to historical scholarship in our area. Vermilyea's recent book, Hidden History of Litchfield County, documents the roadside shrines, monuments, and historical artifacts that often escape everyday notice. The council honored Mr. Vermilyea for both his scholarship and his passionate teaching, and HVRHS is honored to count him among our faculty.
---
We can help you get money for college!
Click the link for more info: collegegoalsunday 2016
---
artgarage Mentor Exhibit and Benefit
Noble Horizons invites the community to celebrate an exhibit of new work by the Artist Mentors of the artgarage at Housatonic Valley Regional High School (HVRHS). Sales from this exhibit will benefit the artgarage, which is 100% privately funded.
The artgarage is a free, non-profit, after-school art studio staffed by adult Artist Mentors who are practicing artists and artisans. They include painters, sculptors, designers, potters, fiber artists, illustrators and art teachers. The art garage is open to all HVRHS students, and its mentors encourage students to explore art, creativity, wonder, possibility, and in the process, themselves. The artgarage is fully funded by donations, which are used to buy art supplies and provide stipends for the artist mentors.
Exhibiting mentor artists include Terri Moore, Vali Valenti, Jill Gibbons, Jocelyn Krodman, Camille Roccanova, Joey Jabonski, Diane Schapira, John Brett, Joel Schapira, Bernie Re, and Mike Sweeny. The exhibit is open weekends, 11:00 am-4:00 pm through January 3, 2016. More information is at www.noble horizons.org or 860-435-9851, ext. 190.
---
FFA Earns Top Honors at Big E
HVRHS Students Best Teams from New England to Virginia
Congratulations to the Housatonic Valley FFA Environmental/Natural Resources Career Development team for their first place regional placing this past Saturday at the Eastern States Exposition. The team placed first over several teams including, Pennsylvania, Ohio, and Virginia and were led by first place overall Mari Cullerton, 2nd place overall, Kevin Massey, and 4th place overall Emily Sullivan, with a strong showing by Noah Watson. They will advance to National Competition in October.
Also, congratulations to first place individual in the Nursery Landscape Career Development Event, Blake Buckley, for leading his team of Alex Fredenburg, Nick Winsser and Ted Perotti to a fifth place regional finish enroute to their national competition.
---
Chromebooks are Here!
Have other questions? Click here to view more about the initiative.
---
New Look HYSB Now Open
Youth Service Bureau Relocated
After a year of renovations, the new space for the Housatonic Youth Service Bureau is now open above the Athletic Garage. The space is located to the right of the Region 1 Central Offices, and Nick, Rebecca, and company would love visitors. Their new, modern space allows them to expand their counseling services and youth outreach programs, which continue throughout the year.
---
2015 Yearbooks have arrived, pick up your copy at the High School Main Office.
---
Looking for a Good Book?
Summer Reading Lists Now Available 
Get lost in a good book this summer! Check out the summer reading lists in English and Social Studies for a wide range of selections that are sure to kick off your summer adventures!
---
Celebrate your Achievement
Graduation 2015 Commencement Portraits are available to purchase at events.lifetouch.com. Sign up to receive notification when your proofs are online and ready to order.
---
Civic Life Films Now Online
Student Documentaries Available on YouTube
---
Living the Civic Life
Documentaries Screened Around the State
On June 9th, members of Housatonic's Civic Life Project class screened final cuts of their documentary films at the Legislative Office Building in Hartford, CT. Films focusing on medication and behavioral disorders, the struggles facing members of the LGBT community, and the role religion might play in public education were well-received by an audience of students, teachers, and legislators from around the state.   
---
Now Showing: Quebec City
Filmed, directed, and edited by Declan Saint-Onge
---
Bon Voyage!
French Students Explore Quebec
On Wednesday, May 20th, twenty-three students from the French classes embarked on a trip to Québec City, sponsored by Cicerone of Québec City, Canada.  For four days the students put aside their textbooks in order to experience handling themselves in another culture and language.  The environment is all-French.  The tour guide, Claudette, was a native Québecois.  The students stayed in the heart of old Québec at the Hôtel Acadia, which is comprised of three beautiful former private homes that were built in 1822 and are the oldest of their kind in the province of Québec. The 40-room establishment has authentic stone walls that lend it a historic feel. The result was a real immersion into the French Canadian milieu.
The students found themselves reliving early Canadian history as they visited the Plains of Abraham, Place Royale, Notre-Dame-des-Victoires, Batterie Royale, and Petit Champlain.  Also planned was a drive through the countryside of the Côte-de-Beaupré.  "Chemin Royal" (the oldest highway in Canada) winds past stone farmhouses, outdoor bread ovens and "calvaires" (wayside crosses).  Stops were made at Chutes Ste-Anne (a splendid waterfall rushing from a height of 243 feet), Montmorency Falls (higher than Niagara Falls) and the Basilica of Ste-Anne de Beaupré, the famous Roman Catholic shrine.  A traditional rural supper was held at L'Érablière du Lac-Beauport, a typical Québecois sugar shack.
---
Envirothon Places Third in the State, Agriscience Takes Second
The Connecticut State Envirothon Field Day was held yesterday at Connecticut College in New London with a pack of approximately 45 teams from around the state. Congratulations to the Housatonic Valley H.S Envirothon Team for their third place state finish with members Mari and Eve Cullerton, Abigail Adam, Noah Watson, Cody Nettleton and alternates Liam Sweeney, Connor Reid, Michah Danforth and Sara Vandeusen. Congratulations also to the Housatonic Agriscience Team for their second place state finish with members Sam Bradway, Emily Sullivan, Jamie Long, Marina Matsudaira and Kevin Massey. We are very proud of all of these members and the work they put in throughout the year.
---
HVRHS German Students Excelling
Top Marks in National Exams
The National German Exam is administered each year to nearly 22,000 high school students in the second, third and fourth level of German. The Exam, now in its 55th year, provides individual diagnostic feedback, rewards students through an extensive prize program, and creates a sense of accomplishment. Exam results provide a means of comparing students in all regions of the country, as well as programmatic data provided to help inform curricular decisions. Exam results are among the criteria used in selecting the recipients of chapter awards and the national AATG/PAD Study Trip Awards, a four-week study trip program in Germany (taken from aatg.org). The following students from Housatonic Valley Regional High School under the instruction of German Teacher Kimberly Durley achieved recognition as follows:  Level 1: Riley Simmons (grade 11) – ranked 1/79 students earning the Gold Award (Goldurkunde) scoring in the 99th percentile for both native and non native speakers Elias Scimeca (grade 11) – ranked 16/70 students earning the Bronze Award (Bronzeurkunde) scoring in the 70th percentile for both native and non native speakers  Level 2: Jared Taylor (grade 9) – ranked 68/168 students earning the Achievement Award scoring in the 60th percentile.  A hearty congratulations for all students who participated this year in the National Test. Students will be celebrated by the American Association for Teachers of German later in the spring with a local dinner as well as receiving their medals at our annual undergraduate awards ceremony.
---
HVRHS SPANISH STUDENTS RECEIVE TOP HONORS
Congratulations to nineteen World Language students from Housatonic Valley Regional High School who attained national recognition for excellent performance on the 2015 National Spanish Examinations (NSE). The Silver Medal winners are senior Juliana Bonett for Level 6, and sophomore Rosa Morales for Level 2. Silver medalists score at or above the 85th percentile nationally. The Bronze Medal winners are juniors Marina Matsudaira for Level 5 and Ashlee Baldwin for Level 4. Bronze medalists score at or above the 75th percentile nationally. The following fifteen students attained Honorable Mention for scoring at or above the 50th percentile nationally. Level 2 Grade 9: Alison Holmes and Juan Sanchez Grade 10: Jordan Santiago Level 3 Grade 10: Paris Beddingfield, Mari Cullerton, Chloe Dakers, Scott Dignacco, Morgan Jacquier, Katherine McGuire, Angela Tabor, Katherine Tortorella, and Noah Watson Grade 11: Gabriela Morales Level 4 Grade 11: Joshua Johannesen and Jonathan Miller These young people are students of Spanish teachers, Mrs. Rhonda Rinninsland, Mrs. Jennifer Sommerer, and Ms. Rosemarie Nanni, and are to be commended for their enthusiasm and dedication to language study. The mission of the NSE is to recognize student achievement and to promote language proficiency in the study of Spanish.
The National Spanish Examinations, sponsored by the American Association of Teachers of Spanish and Portuguese, have been administered since 1957 and are given voluntarily by over 3800 teachers throughout the United States to students in Grades 6-12. All students are evaluated in the areas of Vocabulary, Grammar, Reading, and Listening Comprehension. "Attaining a medal or honorable mention for any student on the National Spanish Examinations is very prestigious," said Kevin Cessna-Buscemi, National Director of the Exams, "because the exams are the largest of their kind in the United States with over 157,000 students participating nationwide in 2015." Thanks to everyone who participated this year! ¡Muy bien hecho!
---
On the Ground in China
HVRHS China Trip: Xi'an
Report by HVRHS student Maddie Longwell, '15: Our day started at the pearl factory where we were given a brief introduction into how pearls are made and –more importantly—how to tell which are fake. After the pearl market, we headed further out of the city to the Summer Palace. Home to the Emperor and Empress in the warmer months, the Summer Palace stretches along the banks of a man-made lake. After walking through the palace, we took a dragon boat across the lake to catch a better view of the architecture. The most interesting part of our day started in the afternoon. First, we stopped at the Beijing Silk Market. Though our tour guide encouraged us to be "good bargainers" we all found it challenging. After the relatively unsuccessful shopping trip, a few of us took a break at a nearby restaurant. Though the restaurant wasn't on our itinerary, we learned a great deal from it, and made a new friend! The owner of the restaurant, a Taiwanese man who had lived in the U.S. for some time, told us all about adjusting to Beijing culture. Unfortunately, our new knowledge couldn't be put to much use as we were starting on the next part of our journey to the ancient city of Xi'an later that night. In the late evening, our tour guide dropped us off at the train station. Feeling isolated in our new environment, our group found safety and a slice of home in a Starbucks. Two hours later, we boarded our train to Xi'an. The train was crowded and unlike anything any of us had seen before. As we departed from Beijing, we tried our best to get comfortable in the cramped compartments and eagerly awaited our arrival to Xi'an
---
Local Students Ranked Nationally in Le Grand Concours
Cameryn Caruso, Sara VanDeusen, Madeleine Longwell, and Katherine Starr of Housatonic Valley Regional High School, Falls Village, Connecticut have ranked nationally in the 80th annual event. Le Grand Concours is a national competition sponsored by the American Association of Teachers of French. Students were evaluated for their written, oral and listening comprehension skills in French. 91,000 students in all 50 states competed in the 2015 event. Cameryn Caruso (10th grade) ranked 11th in the state of Connecticut and 11th nationally for French Level 1. Sara VanDeusen (10th grade) ranked 12th in the state and 13th nationally for French Level 2. Madeleine Longwell (12th grade) and Katherine Starr (10th grade) ranked 14th in the state and 18th nationally for French Level 3. All are students of Marjorie Becker. They will be honored at a special awards ceremony to be held in May at Amity High School in Woodbridge, CT where they will receive the Bronze medal. The following HVRHS students received the Certificat d'Honneur for having scored in the top 50th percentile nationally: Level 1: Maggie Sullivan Level 2: Madison Caruso, Sophie Lake-Ginouves, Declan Saint-Onge, Julian Weisman Level 3: Sierra Grossman, Kianjai Huggan, Hannah McGuire Level 4: Marc Hernandez, Fiona Ocain AATF President Mary Helen Kashuba indicated: French students who rank nationally in Le Grand Concours prove that hard work in the classroom brings success and recognition. These outstanding students reflect well on the French programs in their schools and French teachers under whose guidance they have studied. They constitute an asset to their communities and their present and future schools because they have multilingual capabilities, a greater understanding of world cultures and a high work ethic. They are world citizens and future leaders; it is gratifying to know that such excellent students value their French studies and strive to continually learn and improve.